PALLETISING SOLUTIONS
COMPACT PALLETISER
Palletises boxes weighing up to 16kg at 9 cycles/minute* (15 boxes/minute)without forgoing its high level of functional and operational security.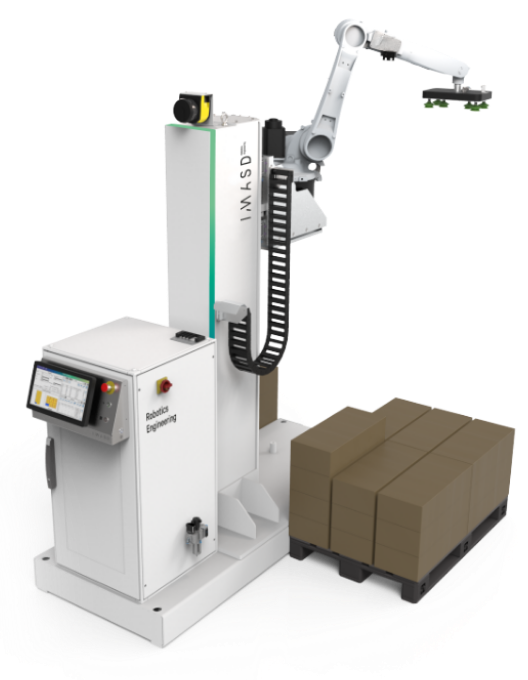 THE MOST VERSATILE AND
POWERFUL SOLUTION
Easy operation
The durable structure and targeted design with lifting column allow it to reach palletising heights of up to 2.4m*, while ensuring high quality.
With a footprint of only 9m2, the Compact Palletiser combines high palletising pace with easy operation.

Pal·logic Freeware.
All of our palletisers feature our pallet configuration freeware, which expedites palletising tasks thanks to the intuitive and easy-to-use interface. This way, our palletisers are equipped to work without requiring additional programming by the user.

Grippers.
At IMASD Robotics Engineering, we create our own grippers, adapting them to the solutions we develop and produce.
COMPACT PALLETISER
Semiautomatic with two box infeeds
Our semiautomatic palletiser with two box infeeds is the most versatile and flexible option for palletising jobs.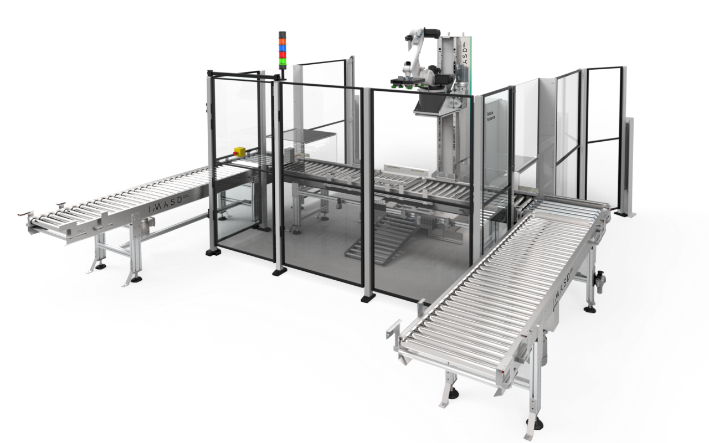 DOUBLE BOX INFEED
Offers simultaneous palletising of boxes that contain different products, or it reduces palletising time by palletising boxes with the same product simultaneously, increasing the palletising pace.
MODULAR CONFIGURATION
You can also work just with one box infeed, so the user has more autonomy to dedicate to tasks that contribute more added value.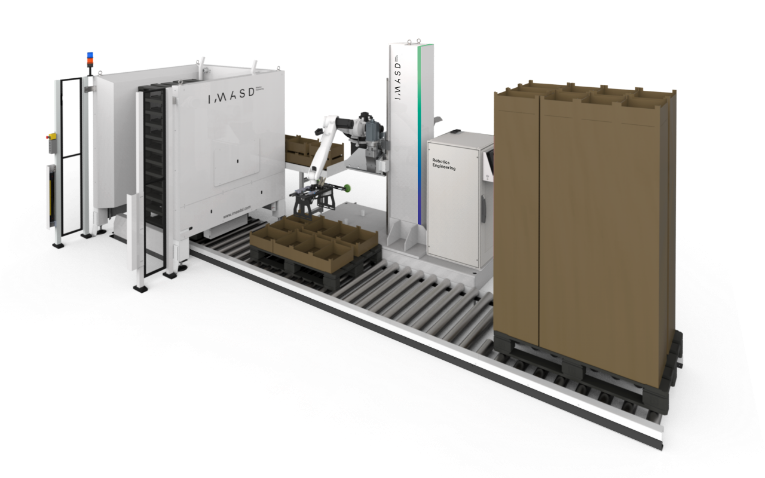 COMPACT PALLETISER
Automatic with dispenser
Our automatic palletiser with automated dispenser supplements the palletising process, providing the user with more autonomy and reducing palletising times.
PALLET DISPENSER
Contributes to the complete automatization of the palletising process, as it furnished pallets (wood or plastic in European, American and half-pallet sizes) automatically, with a storage capacity of up to 10 pallets.
ROLLER CONVEYORS
These complete three functions: placing empty pallets into the cell; acting as a buffer between pallets so palletising does not stop; and automatically extracting the full pallet from the palletising cell, in a controlled and safe manner for the operator.