I+Delta Box, the modular solution for cartoning single-serve coffee capsules
IMASD Coffee Packaging, is IMASD´s engineering division specialised in machinery design, development, manufacturing and integration for end of line processes within the coffee industry. With our experience and know-how in robotic solutions, we bring our state-of-the-art I+Delta Box for the coffee industry, a cartoning machine that adapts to your production and product presentation needs in single serve capsules compatible with Nespresso, Dolce Gusto and Delizia.
A coffee capsule cartoning machine that adapts to your needs
1. Capsule versatility:
Works with all the main capsule materials (aluminium, plastic and compostable) in their size and shape variations.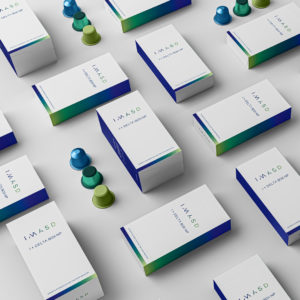 2. Flexible distribution:
Range capsule arrangement in star distribution (4×2+2 and 4×2+3) and twist distribution (5×2 and 4×3) With option to introduce the honeycomb divider, enhancing your product presentation.
3. Box format variety:
Works with box capacities between 10 and 44 capsules. Compatible with models of different capacities and heights.
Do you need more info?
Find out more about our coffee capsule packaging solutions at or contact us.